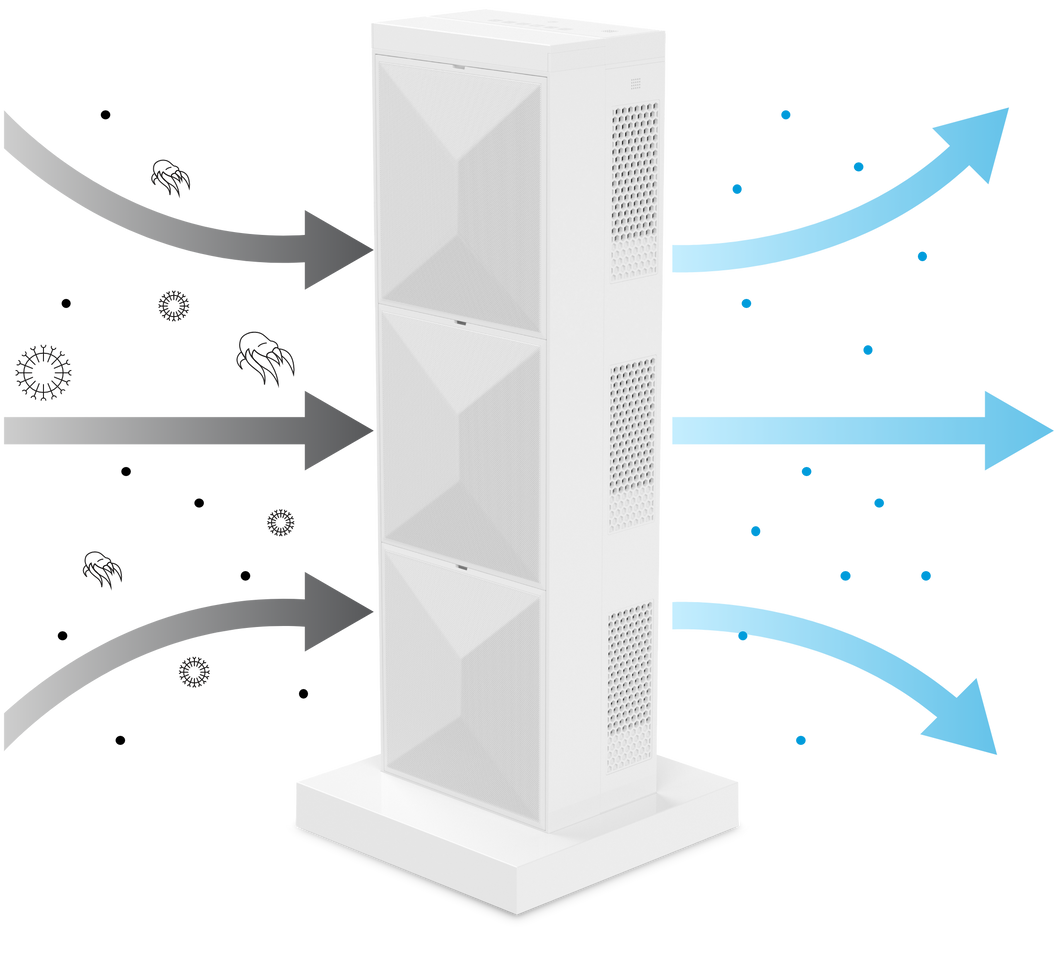 Eliminates 99% of Airborne Contaminates That Cause Allergies
With this HEPA filter, carbon filter, silver ion filter, UV light, and Bi-Polar ionization, the iAdaptAir stops allergens in their tracks year-round.
SHOP NOW
The Best Air Purifier for Allergens
Tree Pollen

Mold Spores

Grass Pollen

Pet Dander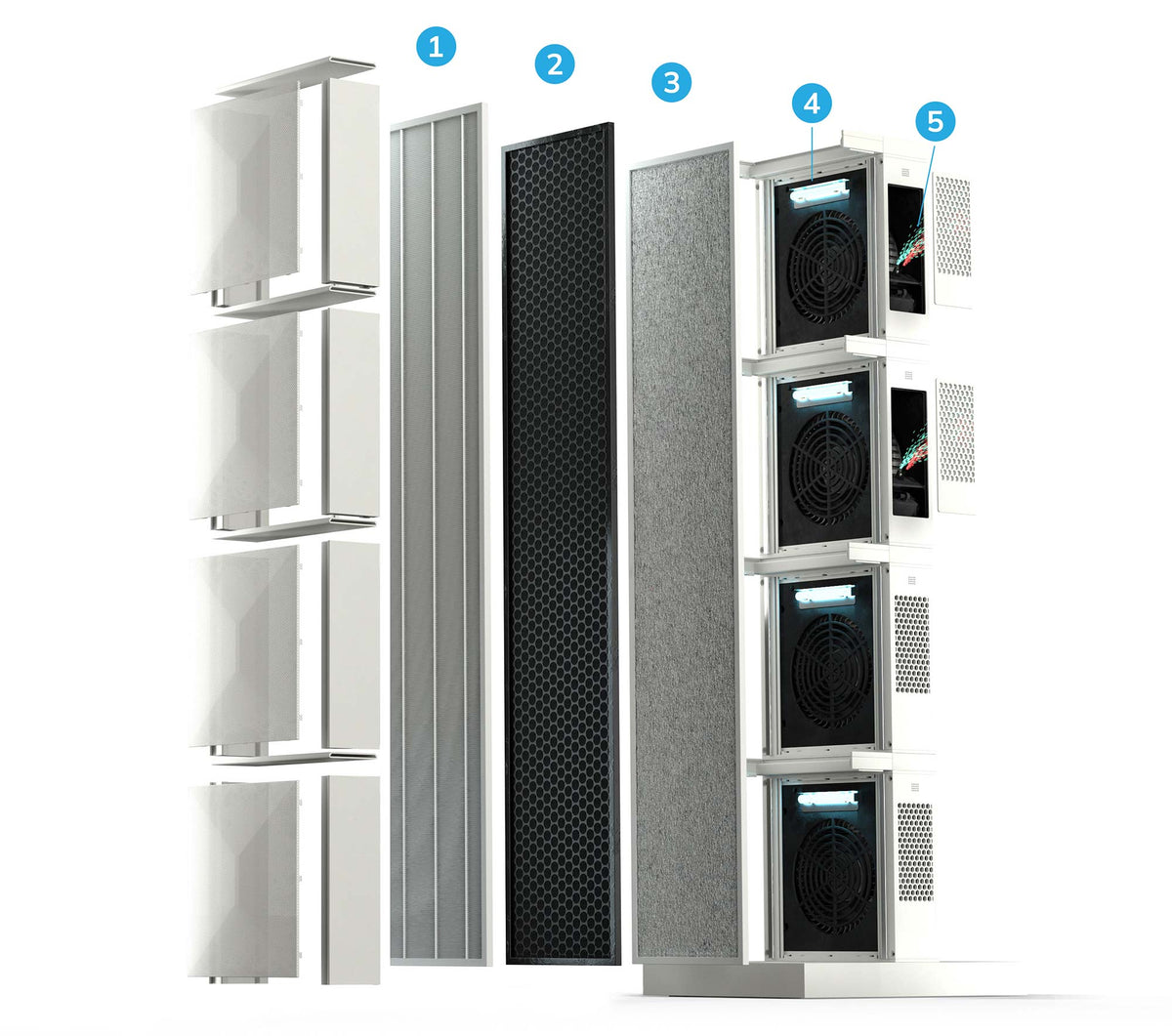 5 Technologies to Clean Your Air
5 Technologies to Clean Your Air
The iAdaptAir® Purifiers are engineered with 5 redundant, overlapping technologies to clean more of your air faster.
1. True H13 HEPA Filter
Capture dust, dander, pollen and smoke particulates to 0.1 microns in size
2. Carbon Filter
Absorb and remove harmful VOCs and odors from your air.
3. Silver Ion Filter
Sterilize mold, bacteria, and viruses that enter the  iAdaptAir®.
4. Germicidal UV Light
Neutralize germs that pass through the UV rays.
5. Bi-Polar Ionization
Ions emitted actively seek out and destroy contaminants.
A Higher Standard in Air Purification
Free Shipping and Returns

60 Day Home Trial

Lifetime Warranty

Removes airborne particles as small as .1 microns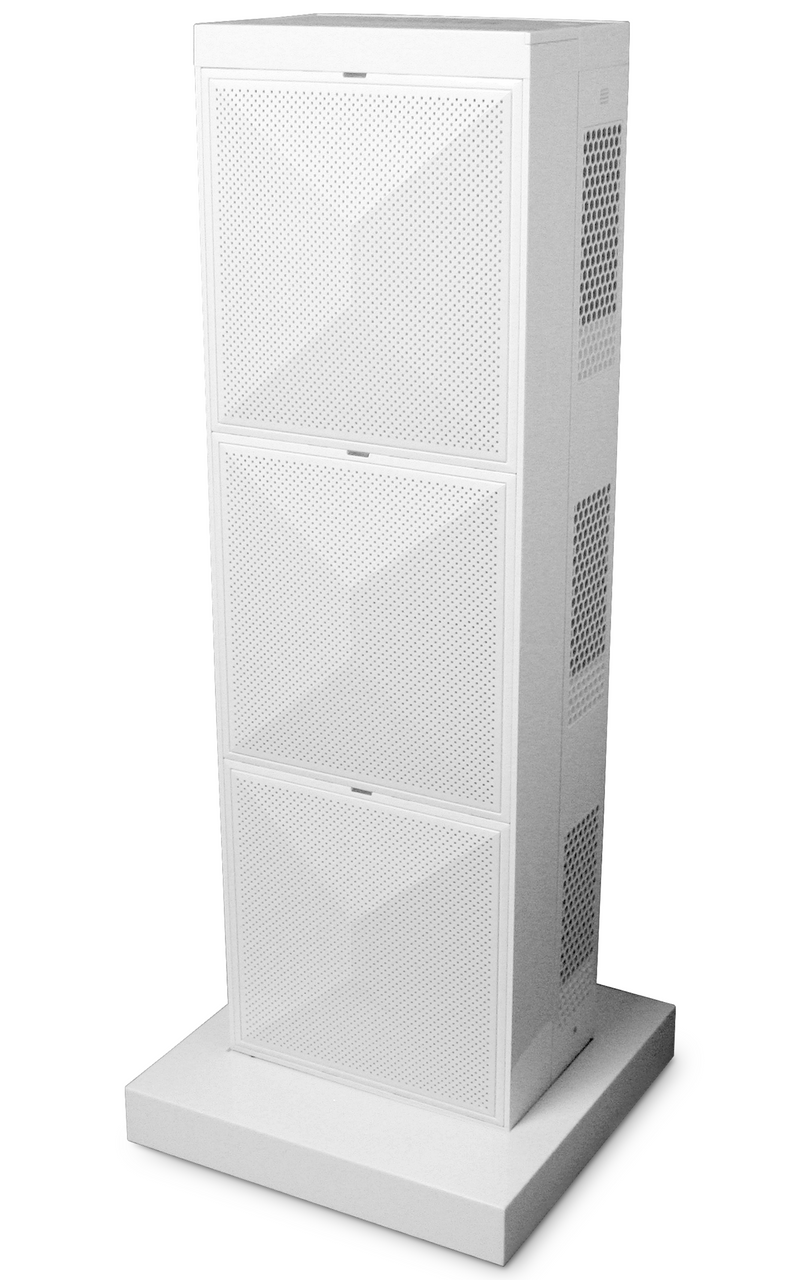 MOST POPULAR
iAdaptAir Purifier
Filtration & Ionization.Available in 3 sizes
iAdaptAir® is the smartest home air purifier. Experience ozone-free air purification for optimal indoor air quality. iAdaptAir® technology includes a HEPA filter, carbon filter, silver ion filter, UV light, and Bi-Polar® ionization, allowing you and your family to have fresher air year-round.
Proven up to 99% effective against
Allergens
Mold
Viruses & Bacteria
Smoke & Dust
VOCs
Odors
SHOP NOW

I've used my large iAdapt air for a couple of years now and it's awesome. I just ordered another replacement filter - I love the air quality indicator (so you can always tell what's going on). The air 100% smells fresher and we noticed an immediate improvement in allergies for everyone in the fam. It's currently in the basement where we're installing a home gym - I told my husband the Air Oasis has to run for a few hours before anyone's even allowed down there. Just to clean out the musty air. Point being: I really do trust that this is well made and effective, and I'm hugely pleased with it.

Really helped with my allergies to the dog I recently adopted!! I'm so thankful!

Would recommend it to anyone battling severe environmental allergies
Frequently Asked Questions
Here are some frequently asked questions and their answers to help you find the best solution for your home or office. 
iAdaptAir is the product allergy sufferers have told us they like the best. It uniquely combines multiple filter stages with what is known as ionization. Bi-polar ionization (aka cold plasma ionization) not only deactivates certain airborne contaminants, it also helps clear the air by causing dust, dander, pollen, and other particles to draw to each other and get too heavy to float. They fall from the air, leaving it more clean.
iAdaptAir will capture any particular matter such as pollen, dander, dust, and mold spores that is drawn into the purifier, down to .3 ppm in size or smaller.
The best answer is to avoid 'undersizing' a room with too small of a purifier. The small size iAdaptAir is designed for smaller rooms like secondary bedrooms or home offices. Medium covers a large room like a living room or master bedroom with an open bath. The large size purifier is designed for more open spaces, such as open floor plan homes. Some opt for more medium-sized purifiers due to the flexibility that size offers. You can always run a larger purifier on a slower (and quieter) fan speed in a smaller room.
The iAdaptAir purifier combines 3 filters with ionization.  The True HEPA filter captures airborne particles (dust, allergens, mold spores, smoke) down to sizes smaller than .3 ppm, a carbon filter absorbs VOCs and odors, and also uses a silver ion coated filter to reduce virus and bacteria particles that may pass through. And, cold plasma ions are emitted (ionization) to actively seek out and deactivate mold, bacteria, and viruses on surfaces as well as in the air.
We know those suffering from asthma can be affected by inhaling certain particulate matter. Filtering the air will reduce the quantities of particulates breathed in. For this reason, we believe both asthma and allergy sufferers can benefit from the use of a quality air purifier.
The iAdaptAir is designed to filter the air in your room multiple times per hour. This gives you some flexibility on placement. If outdoor air is cleaner where you live, you may want to move the purifier away from an open window. If it's pollen season and you need to open a window, having the purifier near the window may help reduce pollen flowing into your space.
We recommend running your air purifier the most in the rooms where you spend the most time. If you work from home, you may want to have it running continuously throughout the day while working. Some set a timer or turn on the purifier an hour before bedtime and let it run through the night to support better sleep. The scheduler function and app support various run cycles.
We recommend a filter change about every sixth month. Some purifiers set to run more continuously may require a filter change a little sooner. The indicator lights turning yellow or red are easy ways to gauge filter change timing.
Trusted by over 300,000 Families and Businesses Worldwide