Essential Oil Flame Diffuser & Humidifier
Elevate your space with our Essential Oil Flame Diffuser. This beautifully crafted diffuser combines the timeless charm of a flame with the soothing aroma of your favorite essential oils. The mesmerizing, flickering flame creates a warm and inviting ambiance while gently dispersing the therapeutic scents. With its elegant design, it seamlessly complements any decor and is perfect for creating a tranquil atmosphere in your home or office. Experience the magic of aromatherapy in a unique and captivating way with the Air Oasis Essential Oil Flame Diffuser.
In Stock - Ships from Amarillo, TX
Free Delivery
To sweeten the deal, we provide free shipping within the USA.

Money Back Guarantee
We offer a 60-Day Money Back Guarantee and Lifetime warranty.
Complement Your Indoor Air Quality
Breathe Comfortably

Focus Your Mind

 Improve Sleep

Relax with Ease
Essential Oil Diffuser Benefits
Breathe Comfortably
Anti-inflammatory, antibacterial, and comforting, essential oils support your well-being.
Focus Your Mind
Bring your mind into greater focus as you breathe clean air accented with oils.
Improve Sleep
Use essential oil as a natural sleep aid to support a good night's rest.
Relax With Ease
Soothing aromatherapy encourages you to take a moment to slow down and enjoy some peace of mind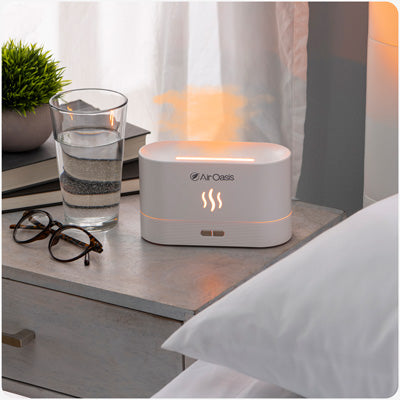 The Essential Oil Flame Diffuser Difference

Air Oasis has been dedicated to improving indoor air quality for 18 years. With our Essential Oil Flame Diffuser you can achieve optimal Aromatherapy for you and your home.
✓ Ultrasonic Diffuser Adds the pleasant aroma and health benefits of essential oils without heat or a fan. Refresh your air safely with a cool accent of your favorite essential oil.

✓ Energy Efficient Ultrasonic technology uses only 4.5 watts of power to efficiently release a calming note of essential oil into your air.

✓ Smart PowerThe Essential Oil Flame Diffuser will automatically power off when the water tank is empty to prevent energy waste and let you know it's time for a refill of water and essential oil.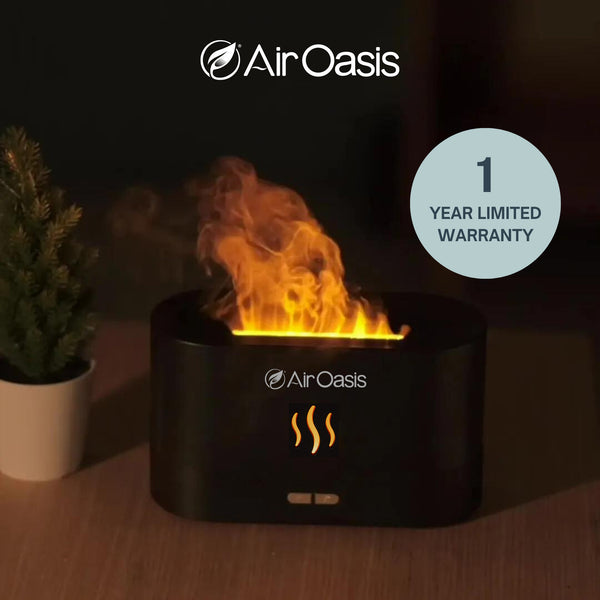 ✓ Virtually Silent Quieter than a whisper, our Essential Oil Flame Diffuser works silently to create an optimal environment for relaxation, healing and sleep.

✓ Straightforward Design There are no bacteria-harboring filters or sponges to be replaced. Simple controls make it easy to choose your favorite mood lighting and essential oil output.

✓ Aromatherapy The Essential Oil Flame Diffuser accents your room with a pleasant fragrance while providing a calming environment for a good night's rest.
Specifications
Model:
Electrical:
Weight:
Capacity:
Materials:
OilFD-B, OilFD-W
DC 5V, 2A, 4.5W
1 lbs
180mL
Polymers, electronics
Dimensions:
Frequency:
Limited Warranty:
6.7" x 3" x 4"
50/60HZ
1 Year
Choosing a selection results in a full page refresh.