iAdaptAir Small
Covers up to 250 sq. ft. rooms.
Industry-leading air purification. Whisper Quiet -- Overlapping Technologies to reduce Mold, Allergens and Germs. Doctor recommended as the Best Option For Biotoxin Illness and Water-damaged Buildings. CARB compliant and no ozone.
Free Delivery
To sweeten the deal, we provide free shipping within the USA.

Money Back Guarantee
We offer a 60-Day Money Back Guarantee and Lifetime warranty.
Elevate Your Air Purification Experience
iAdaptAir is designed to exceed your expectations. Don't settle for ordinary air purifiers that simply filter particles. Immerse yourself in the luxury of truly clean air, thanks to our innovative five-stage purification system.
Unlike conventional purifiers that rely solely on a basic HEPA filter, the iAdaptAir takes air purification to the next level. While other filters become breeding grounds for mold, bacteria, and viruses, our cutting-edge technology goes beyond trapping contaminants. It goes the extra mile by sterilizing and eliminating these harmful elements from your indoor air.
Harnessing the power of UV, silver ions, and Bi-Polar ionization, the iAdaptAir purifier creates a truly pristine environment. Rest assured, there's no need to compromise on safety or air quality—our purifier achieves this without producing any ozone.
Indulge in the extraordinary. Embrace a world where the air you breathe is truly revitalized and protected. Choose the iAdaptAir and discover the pinnacle of air purification technology.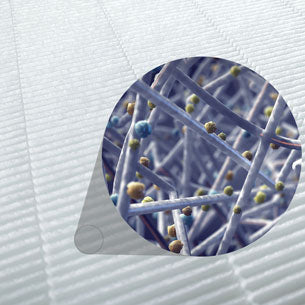 1
True H13 HEPA Filter
Immerse yourself in the unrivaled efficacy of a medical-grade H13 HEPA filter, expertly capturing and imprisoning dust, dander, pollen, and smoke. Unleash the power of H13 HEPA technology, a trusted and time-honored solution employed in hospitals worldwide since the 1960s. Experience air purification at its finest.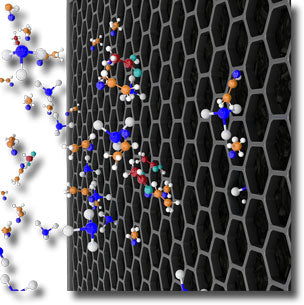 2
Carbon Filter
Indulge in the scent of pure air with the power of activated carbon. This remarkable feature not only absorbs harmful VOCs, chemicals, and odors but also works tirelessly to combat mycotoxins. Breathe freely and experience the refreshing aroma of a truly pristine environment.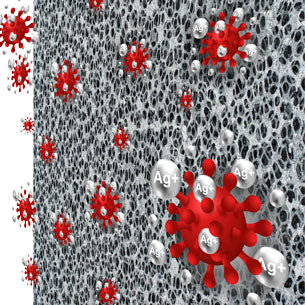 3
Silver Ion Filter
Unleash the power of our high-efficiency sterilizing filter, equipped with a cutting-edge specialized coating. This revolutionary technology releases silver ions that penetrate the cell membrane of mold, bacteria, and viruses, reducing pathogens by up to 99%. By disrupting the DNA, it ensures thorough sterilization, while the ions continuously recycle to maintain long-lasting efficacy over time.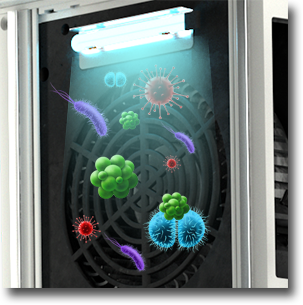 4
Germicidal UV Light
Harnessing a time-tested technology initially employed in hospital operating rooms since 1936, our purification system offers unparalleled sterilization without relying on chemicals. By emitting photons at 265nm, our UV lamp effectively destroys and modifies pathogen DNA, leading to a remarkable 99.9% sterilization rate. Rest assured, our UV lamps operate at 265nm without producing any ozone.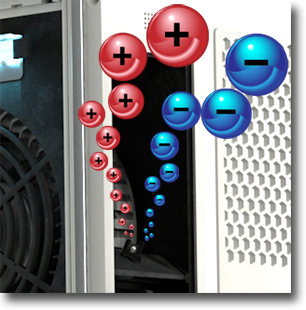 5
Bi-Polar Ionization
Unleash the dynamic force of positive and negative ions that actively hunt down and eradicate contaminants in every corner of your room. Unlike traditional purifiers, our revolutionary technology goes beyond filtering airborne particles. By clustering contaminants, they become easily trapped in filters or settle on the floor due to increased weight. These potent ions even penetrate microorganisms, disrupting their DNA and ensuring thorough sterilization. Rest assured, our Bi-Polar technology won't generate static electricity or produce ozone, making it a safe and effective choice for purifying your air.
The Perfect Balance of Affordability and Superior Air Purification
The small iAdaptAir, our best-selling air purifier.
Unbeatable Value: Multiple small purifiers provide greater effectiveness than a single large purifier.
Cost-Effective Filter Replacement: Enjoy the benefits of clean air without breaking the bank.
Whole Home Coverage: Achieve comprehensive purification throughout your entire living space by placing a unit in each room.
Portable Yet Powerful: Compact in size for easy transport, yet potent enough to purify up to 250 sq ft.
Expandable Collection: You don't have to spend a fortune to get started. Begin with one unit and add more over time to enhance your air quality everywhere.
Unlock a world of clean air at an unbeatable value with the small iAdaptAir. Breathe more, breathe better.
Why do so many homes have iAdaptAir?

According to the EPA, indoor air pollutants are often 2 to 5 times higher than outdoor air. Years of scientific research have clearly established that air pollution is a threat to human health at every stage of life, increasing many risks and shortening lives. Some groups are more at risk of illness and death than others. People who suffer from CIRS (Chronic Inflammatory Response Syndrome) and mold toxicities can especially be at risk when exposed to air pollutants. Air purifiers, such as the iAdaptAir, are a great way to reduce indoor air pollutants.
Respiratory
Wheezing and coughing
Shortness of breath
Worsening COPD
Asthma attacks
Lung cancer
Sneezing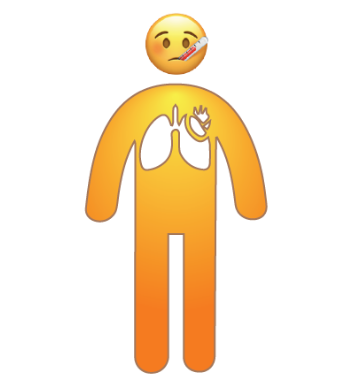 Other
CIRS
Metabolic disorders
Heart attacks and strokes
Susceptibility to infections
Impaired cognitive functioning
Preterm births and low birth weight
Experience unmatched performance and peace of mind with iAdaptAir purifiers.

Rigorously evaluated by third-party labs, our iAdaptAir purifiers have proven their ability to reduce contaminants by up to an astounding 99% in less than an hour of operation. Count on our purifiers to consistently maintain these exceptional results, ensuring you enjoy the best indoor air quality day after day.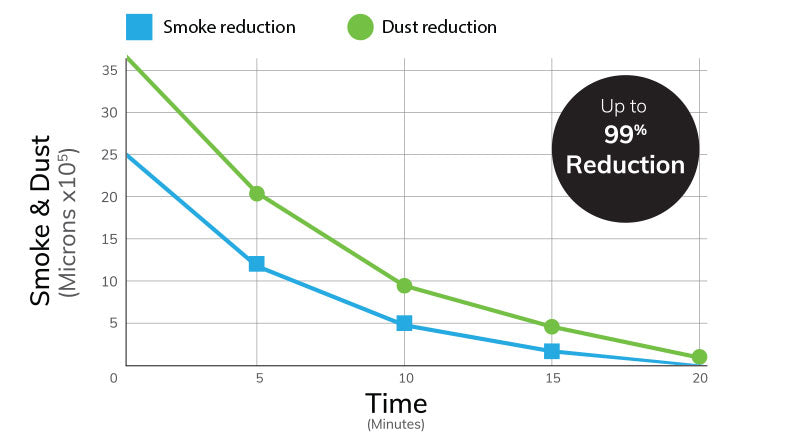 Allergens, Smoke, Dust & Dander
Particles come in all shapes, sizes and forms. Whether it's wild fire smoke, tobacco smoke, pollen, dust or dander you can clear your air up to 99%.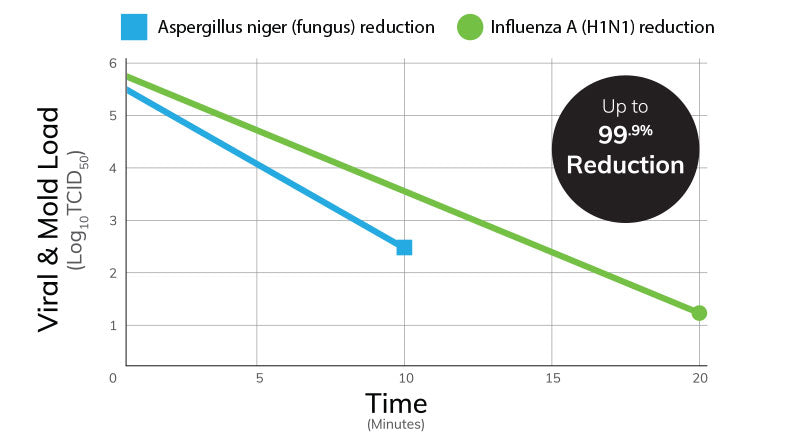 Virus, Bacteria, & Mold
Fungus and Flu have no place in your home. Feel more confident every time you take a deep breath. iAdaptAir reduces mold, bacteria and viruses up to 99%.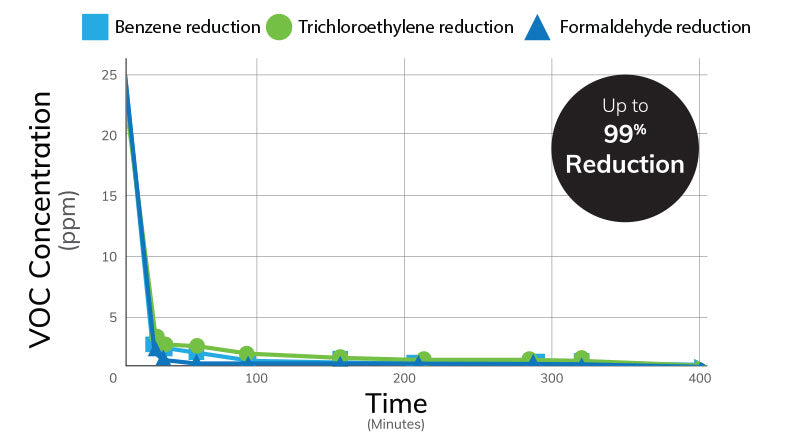 Volatile Organic Compounds
Chemicals can infiltrate and linger in your air from cleaning supplies, building materials and furniture. Our air purifiers will reduce these VOCs up to 99% so you can breathe easy.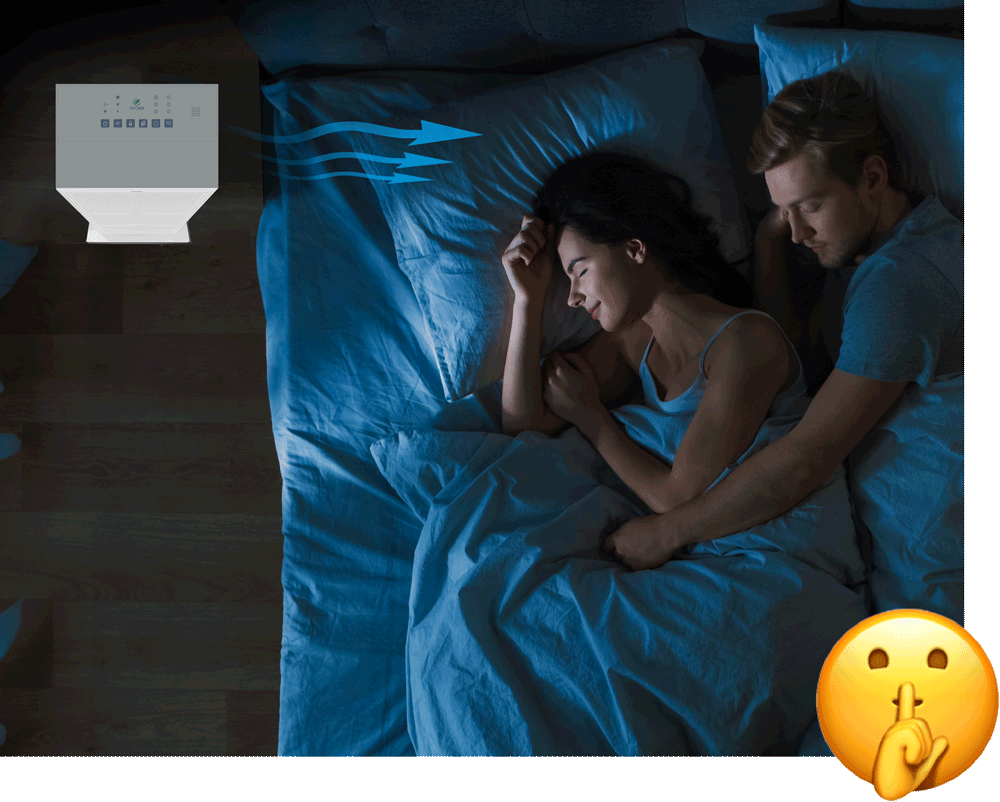 Sleep Like a Baby
Use the night mode feature to ensure a good night's rest.
Quieter a whisper at only 25 decibels
Soothing white noise to help you sleep
Cleaner air means better breathing
No lights to distract your slumber
Controls locked to ensure lights stay off and white noise remains constant
Soothing breeze to keep you cool at night
Stay in Control of Your Air
Pressing the power button not only turns on the purifier, but gives you control of the UV light and Bi-Polar ionizer.
Three fan speed options to put you in control of your air.

Holding down the night mode button creates the perfect sleeping environment.

The color-changing filter replacement button tells you when it's time for a new filter and resets the reminder when you hold it down. The smart iAdaptAir uses an air quality sensor in conjunction with fan speed to determine the optimal time to replace your filter cartridge.
Leaving in a few? The timer setting will ensure you save filter life and energy by automatically turning off the air purifier in 2, 4, or 8 hours.
Smart mode turns on autopilot to save energy and filter life by automatically running your iAdaptAir purifier at the slowest fan speed possible to ensure clean air. If the purifier senses poor air quality the fan speed will temporarily increase.  The smart mode button can also turn the WiFi module on and off.
The air quality sensor icons light up green, orange or red to alert you of changes in air quality, so you can adjust and stay in control of your air quality.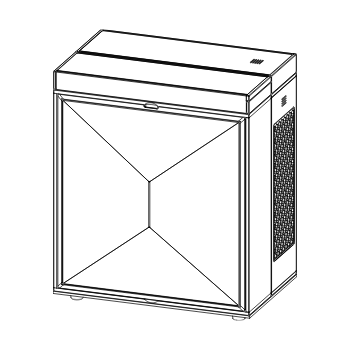 Specifications
Warranty:
Voltage:
Dimensions:
Weight:
Fan rpm:
Timer Settings:
Lifetime
100-240VAC - 8 WATTS
5.4in x 8.5in x 9.7in
7lbs.
Low 75, Medium 1000, High 1200
2hr, 4hr, 8hr
Coverage:
CADR:
Ozone:
Certifications:
Ion Output:
Noise Level:
250 sq. ft.
55 CFM
0.00 PPM
UL 2998 & CARB
40,000,000 + and -
25dB low / 52dB high
Choosing a selection results in a full page refresh.